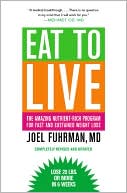 If you have not read this book yet, go get it now!
Finally, a common sense approach to health and weight loss/management that makes sense!
This book is by Dr. Joel Furhman, MD, who was also featured in the movie 'Sick, Fat and Nearly Dead', which chronicles the transformation of Joe Cross, from an unhealthy, sick and really fat guy who was taking several prescription medications, to a healthy guy off all medications.
Initially, Joe weighed over 300 lbs, and he did a 60 day juice fast, to 'reboot' his body and save his life. If you haven't seen the movie, get on it. Very insprirational and eye-opening, as it shows how most people in the US think eating or drinking just fruits and veggies is crazy. Really?
What's also interesting about this book, is that it's not just pro-vegetarian or pro-vegan eating, as there is a limited amount of animal products allowed. I'm vegetarian/vegan (it's the cheese that's hardest for me: Parmesan specifically, and I will have an occasional bite of fish or prawns), so I won't be eating any of the lean meat choices this plan allows. However, you don't have to be a strict vegetarian or vegan to benefit from this book.
Anyway, back to my story: I've decided to change my life and be serious about getting healthier and thinner. I'm down 24 lbs from my all time high weight (no, I'm not gonna tell you what it was), but I still have a ways to go. I was also inspired to write this blog post after reading Valora's updates below... welcome back GF, we missed you!
I'm not going to commit to writing every day, but I want to include updates and photos of what I'm eating, and how I'm doing with my new lifestyle. I'll admit, it's not going to be easy, but I know I feel so much better physically and mentally when I eat this way. OK, so here goes my first blog post on E2L.
Have fun, be healthy and join me!
Marti :)