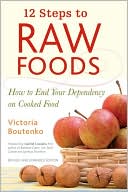 Found this book by Victoria Boutenko at an awesome 2nd hand bookstore last week and made the Live Fries on page 231. OK, so they're raw, and not potato fries, but they were actually pretty good. I also added garlic powder and some pepper, and we dipped them in organic ketchup, and they kinda taste like French fries... I said kinda. Anyway, this is actually a good finger food, and yes I would make it again. The recipe is very easy and quick to make.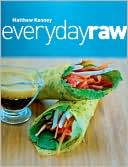 Found this book at the same store last week, and there's a recipe for rosemary-garlic mashed potatoes made from jicama and cashews that I want to try tonight, along with portobello steaks, that are 'cooked' in a dehydrator for 1-2 hours. I will let you know how it all tastes. This book is very pretty inside, lots of pictures, nice paper, and the front cover shows a wrap made from mangos and young coconut meat that's been dehydrated. Looks very interesting.
Lots of cool recipes in this book, the only problem is that some of them take DAYS to make in the dehydrator. So if I know I want raw blueberry pancakes on Friday morning, I need to start the process today. Not sure I can hang with that, but hardcore raw foodists will have no problem. It takes time to prepare foods that are replacements for familiar cooked foods, and create ways to add flavor and texture without destroying or minimizing the benefits of eating raw foods.
Eating raw is not easy, especially if you want to go beyond sliced fruits & veggies, salads and nuts. Gourmet raw food is out there, and I'm always looking for new recipes to try out on Fred. Here's the Raw Gourmet for one.
My goal is to learn the process and slowly add more raw foods into my daily diet, and not try to overwhelm myself in the process. I don't have hours to spend in the kitchen every day preparing healthy meals, but I'm taking small steps and slowly making changes, heading in the general direction towards raw.